The Toxic Tooth by Thomas Levy & Robert Kulacz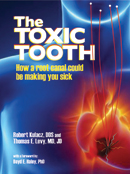 Robert Kulacz, DDS & Thomas E. Levy, MD, JD
If you think root canals aren't anything to worry about (well, except for the possible discomfort and expense), a new book by Robert Kulacz, DDS and Thomas E. Levy, MD, JD is a must-read. The Toxic Tooth: How a root canal could be making you sick delivers exactly what the title promises: A surprising, powerful exposé of one of dentistry's most common procedures.
Using scientific evidence that will be easily understood by both laymen and professionals, Kulacz and Levy explain why the root canal procedure is fundamentally flawed and how root canal-treated teeth introduce a steady stream of disease-promoting toxins into your body.
The authors also shine a revealing spotlight on why, despite the link between root-canal treated teeth and degenerative medical conditions like heart disease, lung disease, diabetes, osteoporosis, and even cancer, mainstream dentistry and medicine have yet to acknowledge the connection. And don't worry; The Toxic Tooth also explains how you can "save your smile" without opening wide for a root canal.
About the Author
Robert Kulacz, DDS received his dental degree from New York University College of Dentistry, and he received post-graduate training in implant surgery and implant restoration sponsored by Brookdale Hospital in Brooklyn N.Y. He abandoned much of his traditional dental practice after learning of the risks of some of the dental procedures he was performing. His first book, The Roots of Disease, with co-author Dr. Tom Levy was published in 2002. It introduced many of the concepts that The Toxic Tooth now greatly expands upon.
Thomas E. Levy, MD, JD is a board-certified cardiologist and the author of Primal Panacea and Curing the Incurable: Vitamin C, Infectious Diseases, and Toxins; plus three other groundbreaking medical books. He is one of the world's leading vitamin C experts and frequently lectures to medical professionals all over the globe about the proper role of vitamin C and antioxidants in the treatment of a host of medical conditions and diseases.